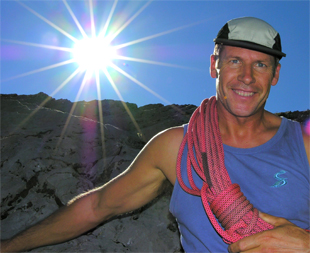 Born in a small town near Chamonix in 1959 I passed my childhood close to nature, building dens or trying to catch trout in the streams. During my adolescence l discovered the moutains with Club Alpin Français. It was the time of big boots and trousers that itched but the moutains were so beautiful…
At 18, l passed an outdoor leaders qualification and bought my first camera.
From there, things moved quickly. By 22, and still young, l joined the famous PGHM in Chamonix, an international reference for mountain rescue. I found the work immensely satisfiying and I matured. The job was engaging with the contrast between the men and the organisation. I passed many rich years of a rare intensity. This place in the alpine community allowed much contact with the mountains, both at a professional and personal level, I combined my two passions photography and mountaineering. It was here that I obtained both my guide and ski teacher qualifications.
In 2000, after several internal shuffles, I became involded in training. After a short time, I spread my wings and developed my own little concept "home and guide".
Mountain Guide - ski teacher - Hiking guide
Before I introduce myself, first of all I wish to touch upon some of the limitations of this wonderful occupation.
Operating most often in conditions wich could be difficult, a moutain guide's work is subject to a number of unknown factors.
1 A great reliance on wethear conditions, always with time constraints
2 Adaptation of constantly changing condition in the mountains
3 Exposure to natural risks (storms, rock falls, avalanches)
4 Training individuals taking into account extremely varied capabilities and training
5 Requirement to work alongside others who do not always have the necessary skills and wich could under one's objectives.
Imagine other situations…
Your mountain guide will manage all these unknowns to the best of his ability but he has the final say as to whether a thing is possible or not. Roped up, he will be the one directly involved if there is a problem. So it is in his interests to do his best for his client. Inspite off all his enthusiasm and professionalism, he cannot guarantee absolute safety. Occasionally things happen, inspite of al our efforts to limit the dangers. Most of the activities suggested involve some risks, wich ofen increase with the difficulty of the activity. This is called engagment or seriouness. An activity wich is easy has less engagement than one wich is more difficult. The degree of risk varies according to the difficulty of the activity. This will be explained and must bee agreed. I need to underline this idea of risk. There is no adventure without risk. From a legal point of view, or profession has foremost a duty of care for the client's safety. Results cannot be guaranteed.
All that to stay that in the moutains, payment cannot be viewed as no risks policy. A mountain guide can reduce risks but cannot eliminate them completely. Paid to accompany you, I will do my maximum to ensure your safety and satisfaction. Using my knowledge and experience, you can relax and enjoy yourselves.
Your MOUNTAIN GUIDE in few sentences :
My sentiments :
The mountains meet my need for escapism and for beauty… I adore the beauty, the silence and the remoteness.
If getting to the summit remains a goal that enjoy, I have no part with the idea of "the summit at all costs" because I find it dangerous. I dot not feel the need to broadcast my conquest , nor to pin my badge to my jacket, but I understand why this may be important to some people. Mountaineering is a discipline requiring courage so sometime we can be a little proud. Having none the less completed a number of difficult routes, I get equal pleasure from just looking at the mountains. I love the mountain simply for what they are and not just for what we do. You will have understood ofter thes few lines taht for me the pleasureis in being here, for the rest…